Gallery
Below are our novels. Purchase these books on this website and a portion of each book will be donated to varying charities. Please help us support these valuable programs.
The Vast In
Between

Coming Soon

In this historical novel set in Shardsburg, Alabama, a sharecropper's child has gone missing following the tornado of the century. Thirty years later, a mysterious visitor arrives on Cookie Haines' doorstep with a faded newspaper clipping about the tornado and the missing toddler. In this debut Southern novel about truth and lies, a young woman sets out on a quest to discover what really happened to the missing child.

The Great
Unraveling

Lydia McCallister disappeared into the fabric of Waycross, Georgia, shunned just like her aunt Rose, years prior. Her aunt went to her death harboring a secret. Lydia is determined to uncover that secret. But just as she tries to re-engage with the society that rejected her, a "yellow fever" train rolls through town and tears at the very fabric of society. Will Lydia make the same mistakes as her aunt Rose, or will she learn to navigate a world unraveled by discrimination to forge a life of meaning and substance?

Dancing The
Loom

Coming in 2021

In upstate New York, at the turn of the century, a servant named Bridget is tucked away in the attic of a wealthy family's home. For all intents and purposes, she is invisible. Until one day, she sees a loom in the window of a five and dime, but not just any loom, the loom from her childhood. Every week, she puts money down to purchase the loom. Each night, however, the loom weaves the beginnings of a tapestry--a tapestry that foretells her future and the future of those around her.
A Thousand Bits
of Wonderful

In this first novel of The Mending Warriors series, Kate Roberts travels to Wyoming, following a rocky breakup, to try to save a ranch that teaches wounded warriors a skill while helping them heal. The ranch is run by a handsome vet named Wyatt Madison. But someone will stop at nothing to see that the venture fails, and that Kate returns to New York, hat in hand. Can she and Wyatt save the ranch, or will darker forces prevail? Only time will tell . . . .

Profits will go to DAV, for disabled vets.
A Walk In The
Dark

Coming in 2021

In this second novel in The Mending Warriors series, a big animal vet named Tracy comes to Wyoming to lick her wounds after an unfortunate accident. She arrives only to discover that the farm she has purchased is not only rundown, but famously known for its odd occupants, the ghost of the former owner and his dog. Tracy and a local veteran named Ryan team up to solve a decades old mystery involving the disappearance of the former occupant of the farm.

Profits from this book will go toward the Search Dog Foundation for search and rescue animals.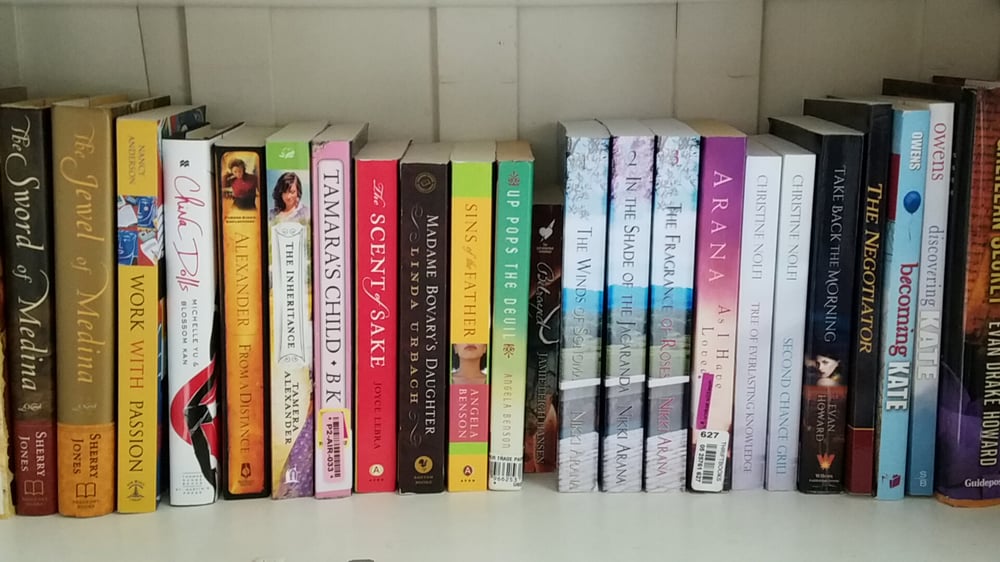 Welcome to our website
---
Here is just a small offering of the books and writers I have worked with in the past. Each has helped me to hone my skills and made me a better editor. To them, I give my thanks.
Testimonials
I have had the good fortune to work with some amazing authors over the years. I hope you will follow the links to some of their websites and check out their latest novels.
Thanks to my editors at Thomas Nelson . . . and thanks to my freelance editor, Carol Craig, for helping me bring The Inheritance to fruition.

Tamera Alexander
Fountain Creek Chronicle Series
Special thanks for editing help goes to Carol Craig . . . who helped make me a better writer.

Sherry Jones
The Medina Series
. . . independent editor, Carol Craig, of the Editing Gallery for her invaluable advice on how to keep my characters quirky, yet give them heart~and for teaching me, finally, to tackle "theme" without popping antacids.

Candy Calvert
The Darcy Cavanaugh Mystery Series
I extend a heartfelt thanks to Carol Craig, my editor, who worked tirelessly late into the night, so many nights, to help me craft my story.

Nikki Arana
Regalo Grande Series